Distressed Areas Development Centre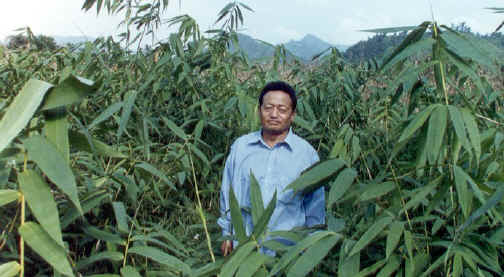 Mr. K.B. Gurung in a patch of 6 month old bamboo
Mr. K. B. Gurung since 1994 outside of Tanahaun village, Damauli. On his own land of approximately 25 acres Mr. Gurung has planted dozens of varieties of Bamboo as well as many other experimental crops. He also manages a small crafts training center with a focus on training women. He is responsible for planting bamboo in many locations throughout Nepal.
Mr. Gurung began his career in politics as one of the first democratically elected ministers about 20 years ago. His short political career convinced him of the great opportunities that Bamboo offered to his homeland. Since then he has won a large share of government sponsored erosion control projects.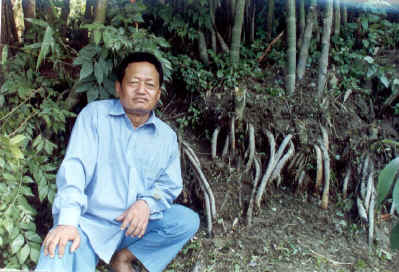 Mr. Gurung beside a demonstration of how bamboo copes with flooding rivers

He is currently setting up a "Home for Helpless Women" where he plans to not only supply food and shelter for 50 women but to train them in bamboo crafts so that they may move back into Nepali society with respect and acceptance.


We can email you more details if you ask or answer whatever other questions the best we can.
Email us: tech@bamboosecret.org

You may also contact him directly at: Vyas Municipality_7, Tanahu, Damauli, Nepal

Tel: 977 655 60141
Fax: 977 655 60040

It is interesting to note that we met Mr. Gurung after we had already, separately, discovered Bamboo and realized what it offered to Nepal as a whole and especially to Nepal's distressed lands and peoples. It has been very encouraging to meet with Mr. Gurung and discover that we are nowhere near alone in discovering the Bamboo's Secret.

The Bamboo's Secret feels a deep and warm appreciation for K. B. Gurung and the support and encouragement that he has extended to us. If you wish to donate to The D.A.D.C. project you may do so via this website by clicking below or feel free to contact him directly.
Please visit us again regularly to see how this project is doing.
We are a small project, at the moment, but have huge dreams. With your continued support and encouragement we will cause great things to happen.

Back to Projects Page
More about the Bamboo's Secret project
Who is behind all this?
Click here to find out who we are
Projects that you can help with. Donations!
The Bamboo roofing Project
Learn how to get and create Safe Water anywhere! From our friends at PokharaTravel.com

Thanks for Helping to save our friend's life!


Click here for Map of Nepal

Click here for other Bamboo & Nepal related sites: