Welcome To
The Bamboo's Secret

School & Charity
DONATIONS for the EARTHQUAKE SURVIVORS!!!
Nepal and Donations. As of this post (May 7th 2015) I have not heard of any serious damage to our offices and to our staff. More reports will be coming and I'll post the news here. In the meantime let me direct you to a couple of other NGOs with a good foundation in place to speed your donations on to those most in need.

I have been experiencing rather extreme emotions over this whole Nepal Earthquake disaster. As with way too many disasters these days it was a calamity easy to for-see. When you make houses out of stone and clay on one of the world's most active fault zones... Unfortunately a foreseeable disaster is no less heart wrenching for its foreseeable-ness.
Of course I share the great popular anguish for all these previously poor village people now living through even greater hardship. On top of this though, I feel a seething anger and fear for there are too many hundreds of people without food and shelter, most with their livelihood also destroyed. They are desperate and they need our help, but getting your donation to the actual people in need without the larger portion siphoned off into someone's already deep pockets... well that is the challenge. Let me say this though, if the organization you are giving to doesn't already have decades of experience doing their job in Nepal already, then your money will probably not help those whom you want it to go to. Promises and heart-wrenching ads are probably coming most from those with least ability to actually deliver. So after you have your heart wrenched let me recommend that you then head over to "Habitat for Humanity", a 'non-profit' (a designation which means almost nothing so be careful) with experience in Nepal and already has the plan and framework for distribution in place. I know there are more reliable organizations ( Oxfam-America is another good one with years of experience in Nepal) - just be careful please, with so many needing so much, to have your donation wasted is a shame we really need to work hard to avoid.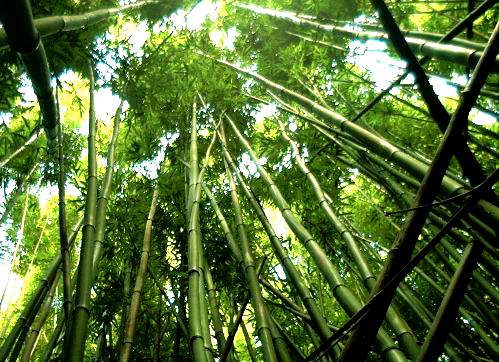 We are a registered "N.G.O." (Non- Governmental Organization) operating in the mid foothill region of Nepal since 2000. "The Bamboo's Secret" is deeply motivated by the following ideals.

First is to actually improve the mountainous environment of Nepal.
Second is to increase the economic livelihoods of disadvantaged, indigenous village women.
Third is to preserve the ancient village cultures.


Traditional village life on the steep, erosion prone hillsides of Nepal offers one of the most economically oppressed livelihoods in the world, widowed and divorced women face lives of even greater anguish. The large majority of Nepali families survive on just a few hundred dollars a year. We are exploring and encouraging markets that will inspire the cultivation of permaculture crops, especially Bamboo and "Nitrogen- fixing" trees; we expect to aid these people, and the world where they live, in the most ecologically and culturally friendly means possible.

The Bamboo's Secret craft training school currently offers classes to widowed and divorced women who wish to learn salable crafts that utilize bamboo. We also have a nursery producing many varieties of bamboo starts which have been given to surrounding villagers to plant on their land. We have transplanted thousands of plants and have covered 48 hectares (118.56 acres) of erosion threatened land as well as 2 hectares (5 acres) in actual flood plane.

You can contact the Bamboo's Secret Charity for more information, contributions, spiffy ideas and/or work offerings at:
The Bamboo's Secret -- USA
Phone: 1(808) 344- 8023

Email: tech@bamboosecret.org
9505 Meadow Star Dr.,
Reno, NV 89506 U.S.A.

Email to Nepal: tech@bamboosecret.org
Or visit us while in Nepal:
The Bamboo's Secret School in Bamdi, Chapakot
Drive about 5 miles east of Fewatal or Lakeside, Pokhara
Up the Harpan river valley to Pame.
Walk about 1 mile south across Harpan river to Bamdi

To download, print and distribute our flyer click here

4 years later- what's going on now?
Bamboo Craft Goods We Make and Sell
Projects that you can help with. Donations!
Who is behind all this?
Click here to find out who we are
Another similar project in Nepal

Thanks for Helping to save our friend's life!


Click here for Map of Nepal
Click here for other Bamboo & Nepal related sites:
The Bamboo's Secret name and it's logo are the property of The Bamboo's Secret Organization